From 25 years a partner of excellence in Argentina
The first agreement between Motortech S.A. and Santerno dates back to 1995, when we met the businessman Eng. Fernando Penacini and his team, a more than a valid interlocutor to develop our proposal of products and solutions for industrial automation in the Argentine market.
Fernando Penacini says: "Since 1997 we are official Dealer of Enertronica Santerno, Italian manufacturers of variable speed drives for asynchronous and direct current electric motors. We are proud to be part of the Enertronica Santerno S.p.A family which continues to innovate, expand its offer of AC and DC frequency converters up to 3000 kW". 
For over 30 years, Motortech S.A. is a national leader in the production and supply of medium and large AC and DC electric motors and their variable speed drives. Since its foundation, Motortech has been providing top class electromechanical reliability to the Argentine industry and neighboring countries. The motors and generators construction covers a wide range of powers from 0.5 kW to 2000 kW.
Motortech has always ensured a complete stock of Enertronica Santerno products and spare parts, is able to assist all its customers, thanks to a widespread network all over the country. Motortech, in Argentina, provides also assistance and support for installations of plants and machines, equipped with Santerno inverters and soft starters, imported from foreign EPC and OEM machines manufacturers in the country.
Motortech technicians participate every year to Enertronica Santerno training courses on the new features, introduced in the existing and new products. The worldwide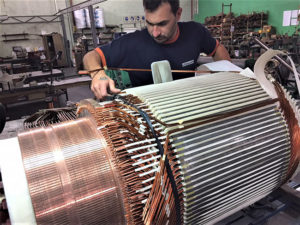 dealers network, shares successful applications for mutual support and new market segments development.
Penacini says: "Our distinctive proposal is: a) Supply products with high technological content, in direct competition with the main brands best products; b) Make a difference with a qualified technical service in pre-sale support to the customer, in solutions design, in the sizing and choice of the best product; c) Make the difference, thanks to the professionalism of our expert technicians throughout the national territory and the service for electrical panels, inverters and motors". 
As Fernando Penacini points out that Enertronica Santerno has always guaranteed its products for 3 years as standard, but they can go even further because the products are known for their robustness and reliability even in extreme environmental conditions.
A global presence

Motortech was one of the first Enertronica Santerno dealers in Latin America. The partnership model developed with Motortech, has become the reference for the choice and development of Santerno authorized dealers in every country in the world:
– presence throughout the country;
– complete new products stock to ensure fast and reliable delivery times;
– complete spare parts stock and authorized repair workshop;
– reliability and high technical know-how to support customers in the pre-sale and post-sale phases;
– assistance and assured support to Enertronica Santerno customers to install systems and machines with Santerno's products in the country;
– collaboration and mutual support to all Dealers of the Enertronica Santerno family worldwide.
Today, thanks to an international network of 9 branches , 40 dealers, made up of specialized, reliable and expert partners, in 35 countries in the world, spread on the five continents, Enertronica Santerno ensures a prompt response everywhere to any critical operating conditions, even in complex applications.