SUNWAY™ CONVERSION UNIT 1500V
A Power Conversion Unit (PCU) Santerno is a turn-key solution for photovoltaic plants integrating all the components to be connected between the photovoltaic panels and the plant medium voltage line.
The main equipment is:
– SUNWAYTM TG TE 1500V modular photovoltaic inverters
– MV/LV transformers
– MV switchgear
– Auxiliary panel and remote control
– Other equipment (auxiliary transformer, UPS, DPIs, …)
– Supporting structure: cav foundation tank
– Two-room shelter cabin (medium voltage room and auxiliary panel room)
– Medium voltage transformer protection grid and roof
All devices are pre-installed and pre-cabled, making the PCU a "plug & play" system able to minimize on-site activities for commissioning the plant.
The integrated foundation tank (also including the oil containment system of the medium voltage transformer) avoids to carry out expensive civil foundation works, since the PCU can be placed on a simple foundation.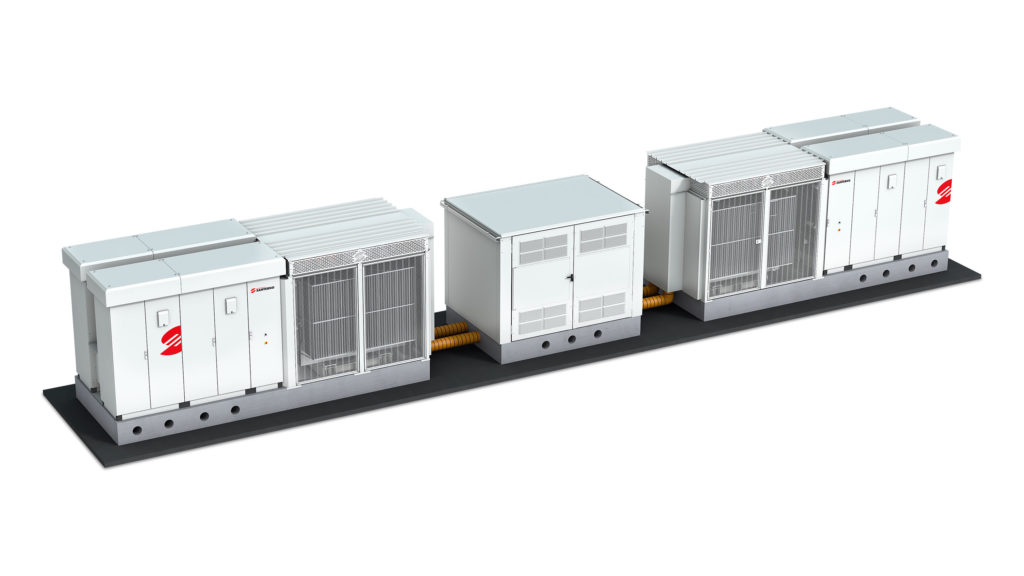 Main Models
The modularity and configurability of the inverters and the modularity of the PCU system, allow to realize a wide range of system configurations, from 1 MW (with 1 converter, 1 MPPT) up to 8 MW (with 8 converters, 8 MPPT).